Today's Top Ten Tuesday is based on a writing assignment through Mama Kat's Writing Workshop
, which I haven't really participated in. But I get the emails for the assignments, just in case I actually decide to participate that week. I know, I'm lazy. Anyway, an assignment a few weeks ago was a "bucket list" of sorts, which was "100 Things I Want to do Before I'm 100." I have never wanted to write a bucket list, because I don't like to think about death. But things to do before I turn 100? That's a little different. I'm not kidding myself; I know I won't live to be 100, but it's easier to think about than accomplishing things before I die. And I actually started this assignment - but only made it to 40 items before the deadline, so I didn't submit it. For today, I'm paring it down to ten.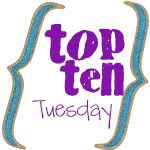 Ten Things I'd Like to Do Before I Turn 100
1. Install a swimming treadmill in my basement.
2. Go on a tropical cruise.
3. Travel cross-country in an RV for a summer.
4. Go to Las Vegas.
5. Get my ears double-pierced again.
6. Sing with a group (not a choir!).
7. Have grandchildren (LATER).
8. Own a place at the beach.
9. Go to Hawaii.
10. Meet Paul McCartney (never said they all had to be realistic!)
Yesterday I mentioned that I made a quiche for dinner the other night, and was asked for the recipe in comments (thanks for stopping by!). So here is my recipe for Bacon-Cheddar Quiche:
Bacon-Cheddar Quiche
Ingredients:
One frozen deep-dish pie crust shell (don't thaw)
Six eggs
Half cup milk (I use skim or fat-free half and half)
Salt and pepper
Six strips of bacon, cooked and crumbled (don't make tiny pieces)
One cup shredded cheddar (I use low-fat)
Directions:
Preheat oven to 375 degrees. In a blender or food processor, mix eggs, milk, salt and pepper. Stir in bacon and cheddar. Pour into frozen pie crust. Bake at 375 degrees for 45 minutes. It will come out very puffy. Let sit for 5-10 minutes before eating. Enjoy!