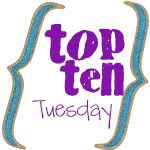 As I sit here in my recliner with my heated blanket on me (yes, I even get cold in the summer!) and Diet Coke on my side table, I decided this week's Top Ten post would be ten of my guilty pleasures.
1. Facebook - my biggest guilty pleasure. I can't believed how addicted I've become.
2. Diet Coke - I should be drinking more water, but I love this stuff so much.
3. Farmville - go ahead, make fun. I can take it.
4. Chocolate - I need to drop 5 or 10 pounds, but who can resist? Not me.
5. Pajama days - Usually during a winter Sunday when the girls and I turn into jammied slugs.
6. Dairy Queen Blizzards - specifically, Coffee Heath Bar. See #4
7. Droid Phone - just got it less than two weeks ago, and I can't put it down. It's so cool.
8. Twitter - non a full-blown addiction yet, but we're heading that way. Again, make fun.
9. Horrible monster movies on the "SyFy" network. Sharktopus is coming!
10. Blog reader - but it's so entertaining!
Also, before I forget, I was given an award by The Drama Mama yesterday - she said my blog is one of several that light up her day. Considering I just started this, that is so nice to hear! I know we're supposed to award the awards, but I haven't been around long enough yet to do so. But I really appreciate it!