Monday already? Seems the weekend just started! Lauren had her first marching band competition of the season, and they did great. I feel so proud watching her on the field. She plays the baritone sax, an instrument almost as big as she is! I don't know how she does it.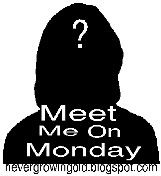 1. How many TV's do you have in your home?
We have three TVs; one in the living room, one in the basement and one in our master bedroom. However, we can also watch TV on our computers.
2. What is on your bedside table (nightstand)?
Books! Books I've read, books I'm reading and books I need to read. Plus the lamp to read them by.
3. How many pair of shoes do you own?
I have two pairs of flip-flops I live in during the summer, Skechers toning shoes, sneakers, and a few other pairs I wear during the winter. Nothing exciting; I'm not really a shoe gal.
4. Can you change a flat tire?
Unfortunately, no. It doesn't make me as nervous now that everybody (including me) has a cell phone.
5. Do you prefer sweet treats or salty treats?
Put them together, please! Loved salted dark chocolate caramels, Pretzel M&Ms, mixing popcorn and plain M&Ms together. Good stuff!