Today Lauren and I went to the Horrorfind Weekend Convention and had a great time. The convention is a mix of horror actors, horror writers, and horror props people. People dress up crazy and scary, and those are just the attendees! The writers and actors are pretty "normal."
Here's a convention attendee: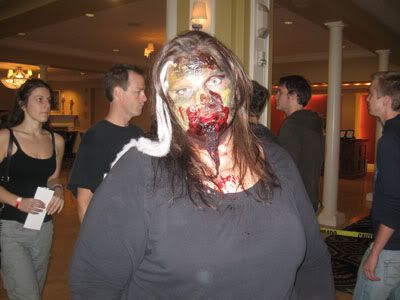 I got to see several famous actors, but didn't feel like standing in line for a meet-and-greet and then pay $20 per autograph. Seriously? You're not THAT famous anymore. I saw Adrienne Barbeau, Dee Wallace, Gary and Jake Busey and then a lot of people who were glorified extras in zombie movies who you wouldn't recognize without their makeup.
The horror writers don't charge for autographs, and they are much cooler anyway. Here is Monica J. O'Rourke at her reading. Great story, very gross. I was surprised it didn't churn Lauren's weak stomach!
And Jack Ketchum starting to read - but I took Lauren out because I could tell it was going to be a very inappropriate story for her to hear. See, I'm a great mom!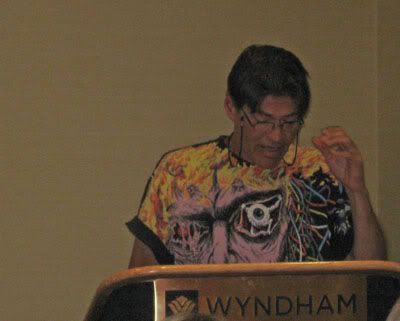 And the two of them before the reading: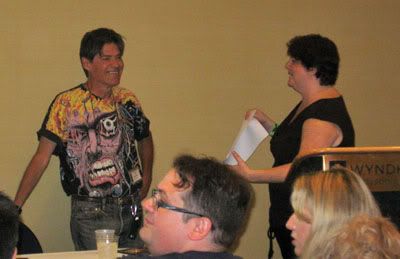 There were several creature wandering the convention who were gracious enough to let me take their pictures (for free!). I wanted Lauren to get in the pictures, but she wouldn't. Wuss!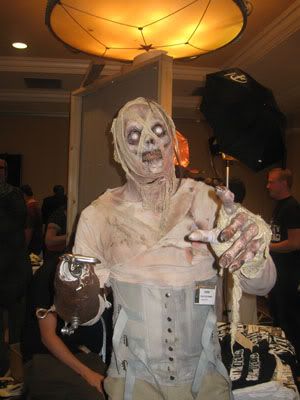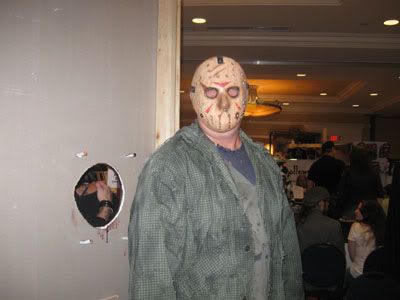 This little girl was quite pleased with her makeover: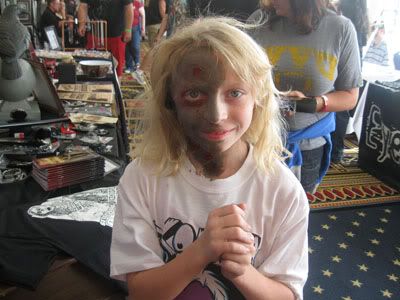 Lauren and I were getting hungry, but decided this didn't look very appetizing: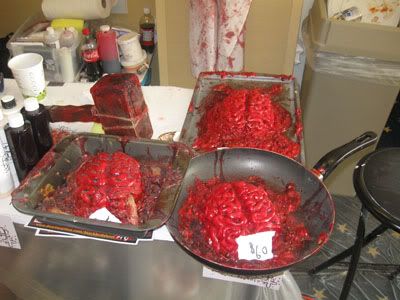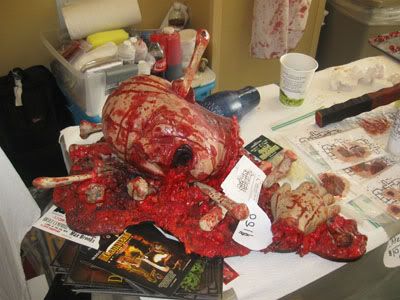 And finally, Monica and me reuniting after many years of not seeing each other. Hopefully now that I'm writing again, she and I will be seeing more of each other.
Now for my BIG NEWS!!! I was one of the winners of the Necon E-book first flash fiction contest!!! My first horror story acceptance is probably eight years. I am beyond excited! You can find my story right here!
I was also encouraged at Horrorfind to get back into the horror writing game because my writing was good. Such a confidence booster! I'm so glad I went today. And I had a good day with Lauren, who is so busy with band and school that I don't get to hang out with her much.