Becca and I didn't get to NYC; she woke up with her sinuses bothering her and wasn't up to going. She felt better after a Sudafed and a shower, but by then it was too late to drive that far. We'll try again in the spring.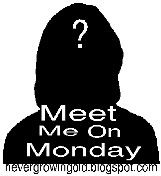 Questions:

1. How many pillows do you sleep with?

Just one and it's very comfortable.
2. Where will you eat on Thanksgiving?

We eat at my in-laws around noon, then head to my mom's around five or six. We are STUFFED by the end of the day! But I love it.
3. Would you rather go to a party or host a party?

Go to a party. My social anxiety keeps me from having people over as I would like.
4. How many purses (for the guys..wallets) do you own?

Just one. I'm not a purse girl. I get one and use it until it's worn out.
5. What is your favorite kind of seafood?
Crab legs from Joe's Crab Shack! Or any shrimp dishes I prepare, like Shrimp Creole.