Before I participate in Meet Me on Monday, I want to mention that my recent post, Tragedy in Our Family, was featured on the Feels Like Home blog yesterday in Things to Write Home About. Thanks for including me!

Now onto the meme!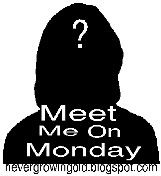 1. What is the best dish you can make?
I'm actually a pretty good cook, but I think it was Shrimp Creole that won Chris's heart.
2. How often do you change your sheets?

As often as needed.
3. What is the longest car trip you have ever taken?

We live in Maryland, so traveling to Texas to see my dad is the longest car trip.
4. What is your favorite fruit?

I love most fruit, but have recently discovered a love for dates and fresh figs.
5. Would you rather have breakfast for dinner or dinner for breakfast?
Breakfast for dinner! Although I have a recipe for Breakfast Pizza, which I consider a compromise.