Now that a new school year has started, it's time for me to start some new things as well. Here are ten things I'd like to work on throughout the school year: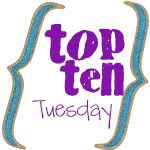 1. My weight - I've gained about 17 pounds over the summer! Starting Slim Fast and Sparkpeople today.
2. Write more - and not just blog posts, Facebook updates and Tweets. I really want to do this.
3. Say NO more often when confronted with things I really don't want to do.
4. Read more - again not just blog posts, Facebook updates and Tweets!
5. Clean out laundry room - it's a catch-all and I really need to go through it.
6. Clean out kitchen cupboards - mostly old pans I no longer need and the spice cupboard.
7. Cook more - another reason I've gained weight. I need to be more disciplined.
8. Exercise! Even if I just walk every evening. I've been very bad about this over the summer.
9. Do stuff I want to do and not just talk about doing it. For instance, take a weekend trip to NYC like I've been wanting to do for YEARS.
10. Get Christmas shopping done EARLY. I just want to enjoy the Christmas season.
I'll be keeping on my kids about their grades - maybe I'll enlist them to help me with my projects!
See more Top Ten on Tuesday posts here!