I just started reading a book today called Talking to Girls About Duran Duran by Rob Sheffield. It's all about 80s music, mostly notably Duran Duran, and how girls squeed over them then and still squee over them now. The book reeled me in right from the introduction since I'm an 80s girl, so today's Thursday Thirteen will be thirteen of my favorite 80s videos.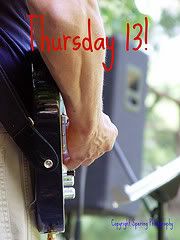 OK, officially this song came out in 1979, but it was the start of the MTV phenomenon, and I was so lucky to be part of that while it was still awesome. MTV sucks now, but my memories of it are wonderful.
I absolutely loved the "new wave" sound when it came out, and The Psychedelic Furs were a favorite band. This song was played in one my favorite movies, Valley Girl
It seems like the only Eurythmics song played was "Sweet Dreams," but they had much better songs than that one. This is my favorite Eurythmics song of all time.
I've been a fan of Starship ever since they were Jefferson Airplane. Marty Balin was my favorite lead singer after Grace Slick. Starship got a lot of grief for "We Built This City," but I think this gem was overlooked. I loved this song so much, I named my firstborn Sarah after it.
No list would be complete without Culture Club. God, I loved Boy George. I thought he was sexy, which drove my mother INSANE. But he rocked the makeup and hair like no other guy could.
I wasn't just into New Wave back then. I liked Top 40, rock and pretty much everything, as long as it pleased my ear. Fleetwood Mac was a favorite, but I have to say and it, and I'm sure this is sacrilege - I like Christine McVee better than Stevie Nicks. That's right! And Lindsey Buckingham was beautiful back then - but unfortunately he was a batterer, according to his ex-girlfriend's autobiography. But that doesn't change the fact his voice is incredible.
And you couldn't put together a favorite 80s video list without mentioning Michael Jackson. I know many people think Thriller was his best video, but it's Billie Jean, that gets me singing along and wanting to dance.
Kind of a sad song/video, but I absolutely love this song. Elvis Costello is COOL.
When Peter Gabriel was making somewhat of a comeback in 1986, everyone raved about "Sledgehammer." That was great, of course, but I think "Big Time" is MUCH better.
I'm a Led Zeppelin fan, but loved this song by Robert Plant. He never lost is awesomeness, even after Led Zep broke up. He STILL rocks. And this song is just plain FUN.
Speaking of going solo, this was a huge hit back in the early 80s. I never realized until then that Pete Townshend had a great voice - I always thought the voice of The Who was strictly Daltrey. But I had a lot to learn about music back then.
The Traveling Wilburys - OMG. Some of the coolest voices in rock history in one song. It was a damn shame that Roy Orbison died right after making the album, especially because he looked so HAPPY in this video. I will never EVER get tired of this song.
I was so sick of Men at Work because the only song I ever heard on the radio it seemed was "Down Under," which was a snoozefest. Then I discovered this song and realized they were a great band and Colin Hayes had (and still has) a great voice.
OK, that is thirteen. This is so not an exhaustive list - I could list hundreds. These are just a few of my favorites. And since I'm reading a book that is in a way about Duran Duran, here is a video by them I like (although it make no sense), even though I'm not a HUGE fan but do like their music. I do have to admit, they were beautiful boys. I liked eyeliner and makeup on my rock stars, and it drove my mom NUTS.
See other Thursday Thirteen participants here!