Tomorrow Becca, Chris's mom and I will be road trippin' to Pittsburgh, PA for the Paul McCartney show. This will be my fifth time seeing Paul in concert, Mom's third and Becca's second. I CAN'T WAIT. I never get tired of seeing Paul perform live. So this week's Thursday Thirteen will be thirteen songs I hope Paul plays tomorrow night.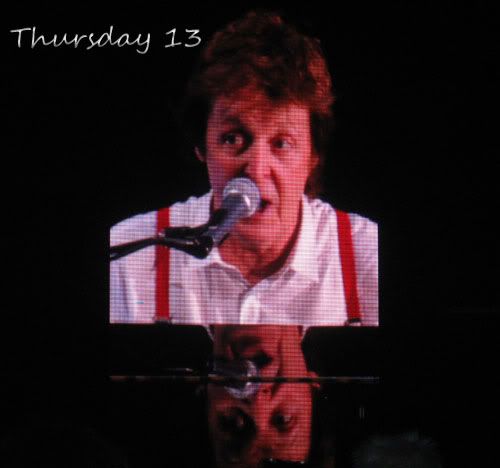 1. Live and Let Die - This is AMAZING live. This video is a montage of LALD performances.
2. Jet - Another amazing song when performed live. This performance was two years ago - Paul is getting close to 70 years old, and he still KICKS ASS.
3. Sing the Changes - a new song from 2009; he performed it at last summer's concert we attended. Awesome song.
4. Get Back - one of my very favorite Beatles songs.
5. Another Girl - another favorite Beatles song, but I don't think he's done this one live. I really wish he would, though.
6. The Night Before - yet another Beatles favorite. Again, I don't think he's done it live, but would love it if he did.
7. Maybe I'm Amazed - his love song for Linda. My favorite love song of all time.
8. Silly Love Songs - I've never seen this one live, and it's such a fun song. In your face, John Lennon!
9. Band on the Run - this one is incredible in concert, too. Awesome song.
10. Penny Lane - beautiful song, and the instrumentals give me chills.
11. Nineteen Hundred and Eight-Five - this is one that Becca wants him to play. This video was taken a few months ago, so maybe he's performing on this tour. Fingers crossed!
12. Lady Madonna - awesome piano on this song.
13. Back in the USSR - last but certainly not least. Another one of my favorite Beatles songs.
These are not the only songs I'd like to hear, of course. Hell, I'd listen to him perform his entire catalog if it were possible!
Tomorrow night is going to be AWESOME.*
* I use the word "awesome" a lot, I know. But, hey - I'm an 80s girl!