Daily blog dare post after Meet Me on Monday, plus some story news and a link!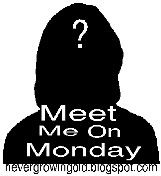 1. Do you have any New Year's resolutions?
Goals, baby, goals! Check out my recent posts.
2. What food item are you craving right now?
Just started Weight Watchers yesterday, but I'm not really craving anything right now. This new Points system gives me more food to eat than I'm used to lately, so I don't feel deprived.
3. When is your birthday?
December 16th - sucks having a birthday so close to Christmas!
4. What were you doing an hour ago?
Same thing I'm doing now - hanging on the computer!
5. Last thing you cooked?
Christmas dinner! We've gotten a lot of take-out, but I'm back to cooking dinner regularly tonight.
***
Today's Bloggy Mom's Blog Dare prompt is:
The Morning Routine
If I don't do/have this in the morning, it offsets my entire day!
For a while, after suffering from mono, bronchitis, and a sinus infection, I got whammied with Chronic Fatigue Syndrome. I was constantly exhausted, yet also had insomnia. I would go to bed at night, take a while to fall asleep, then wake up throughout the night. Then I'd sleep until 1 or 2 in the afternoon. It was awful.
My doctor finally came up with a cocktail of meds that have improved my life immensely. I'm on meds for depression, but also Lunesta to help me sleep and Ritalin to fight daily fatigue. Lunesta is a WONDER DRUG. It helps me go to sleep gently; I sleep through the night unless I get up to go to the bathroom, but I can get right back to sleep. Then around 6:30 or 7:00 in the morning, it's like a switch is thrown and I'm UP and ALERT. I love it so much.
So now my morning routine is to go downstairs as soon as I wake up. Becca is usually waiting to go out to the bus so we hang out and talk. Then I get my ice water (crave it when I wake up) and mix in a packet of Crystal Light energy (has caffeine), and take my Ritalin. Then I get on the computer for a couple hours and write or read or just surf. It's quiet because Chris and the dogs aren't usually up yet and the girls are at school. I love that I've gone from constantly exhausted and spending most of my life sleeping to a morning person who gets things done.
***
I have a story up today called "The Gift That Keeps on Giving" at
Support the Little Guy
e-zine. I'd love for you to read it and comment on it!