Been a while since I posted - the closer Christmas gets, the more overwhelmed and stressed I get. I did get a book review done in case anybody is interested:
In The Mean Time by Paul Tremblay.
I enjoy Christmas when it's happening, but the days leading up to it leave me tired and stressed. On Christmas night, after everyone has gone and the cleaning has been done, I love to sit in my recliner, watch TV and go "Aaaaahhhhhhhhhhhhh." Looking forward to that!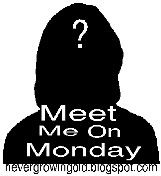 1. What will your Christmas dinner consist of?
Turkey and stuffing are the main attractions; sides still to be decided.
2. Do you watch commercials or flip through the channels?
I usually watch commercials because I mostly watch live TV. Most I don't mind, but I will immediately mute the TV or change the channel when the Sarah MacLachlan animal shelter PSAs come on!
3. How long will you leave your Christmas decorations up?
I'm Grinchy - if I weren't so tired Christmas night, they'd come down then! It usually the day or two after Christmas if nobody protests.
4. What movie makes you cry every time you watch it?
Steel Magnolia's, the funeral scene. Every damn time. I hate it (hate crying).
5. Do you have a Facebook?