...The trick is to ride and make it to the bell.
While in Texas last week, we went to the Mesquite Rodeo. I love watching the rodeo; it's so exciting and fun. My dad got us great seats right in the front row. We could've touched some of those horses sometimes! Sarah was in heaven with all the cute cowboys around.
This sign set the tone for the evening as we walked in:
You don't see too many warnings like that in Maryland. Before the show, we helped ourselves to the BBQ buffet, which was AMAZING. Brisket, sausage, potato salad, coleslaw, beans, rolls - everything was so good, we went back for seconds. And the beer was icy cold. Perfect.
You can see how close we were to the action here: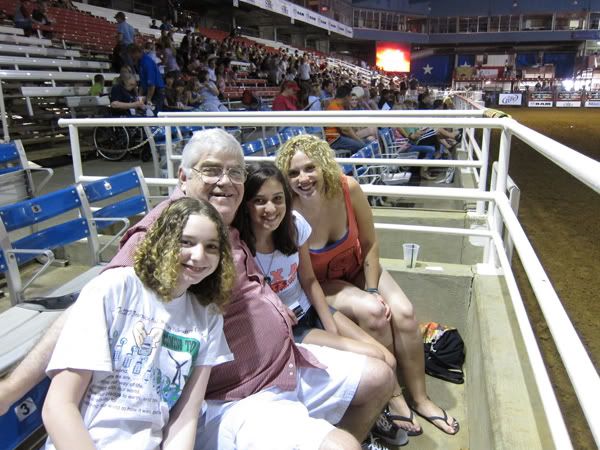 The first event was bucking broncos, which was really cool to watch. Not every cowboy made it to eight seconds, and you really feel sorry for the ones who are thrown right out of the gate.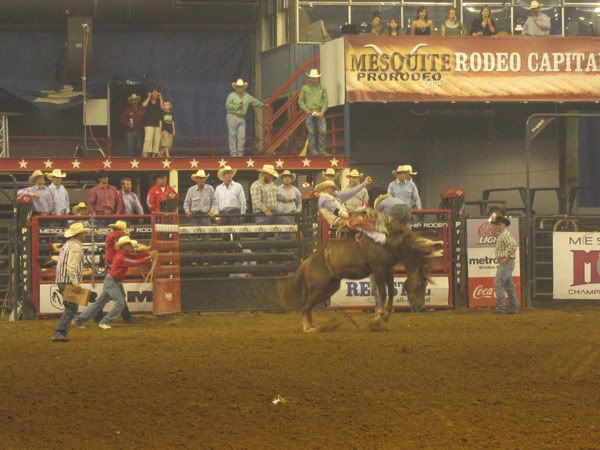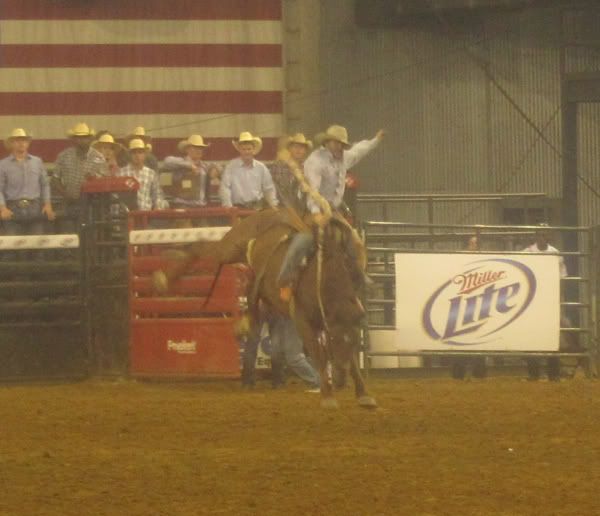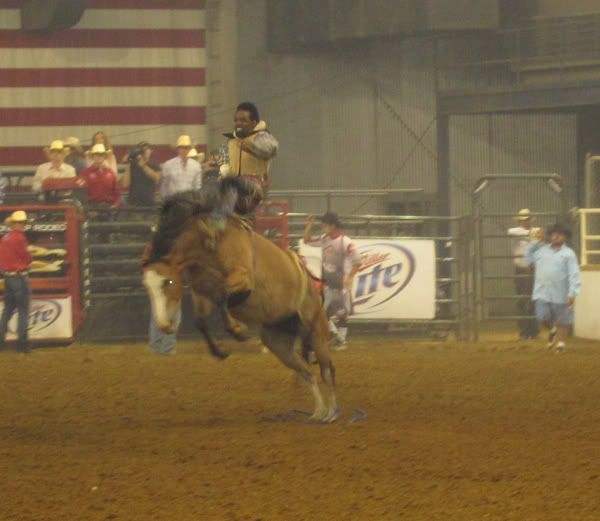 Here is a rodeo referee almost getting in the way of a bronco:
Thrown!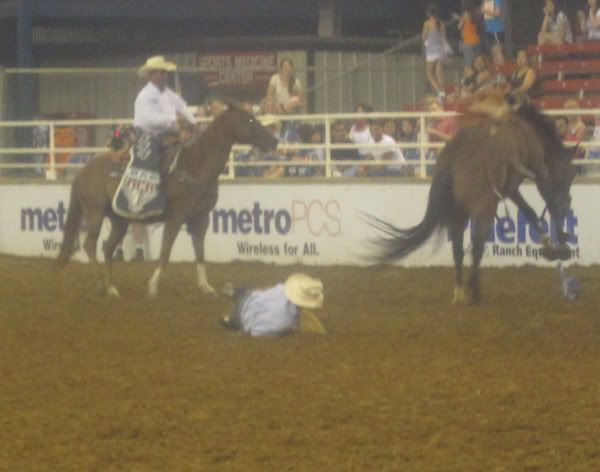 A little bit of steer wrestling: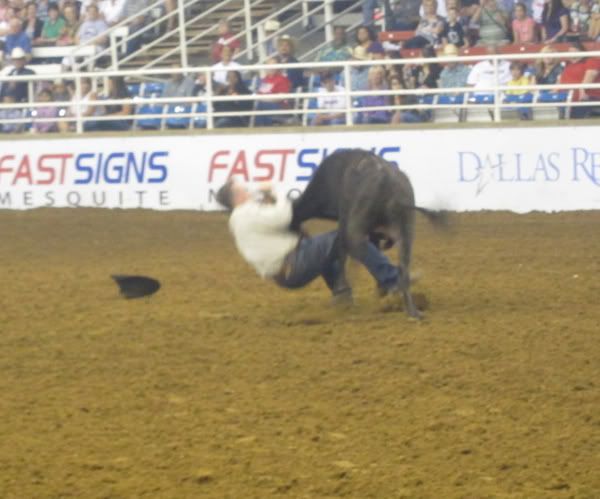 Team Roping: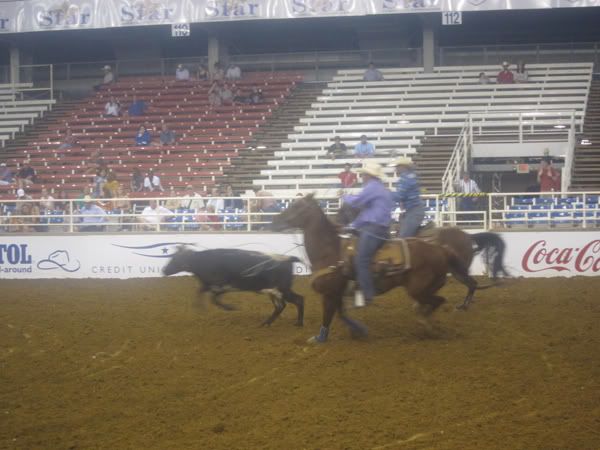 Tie-Down Roping: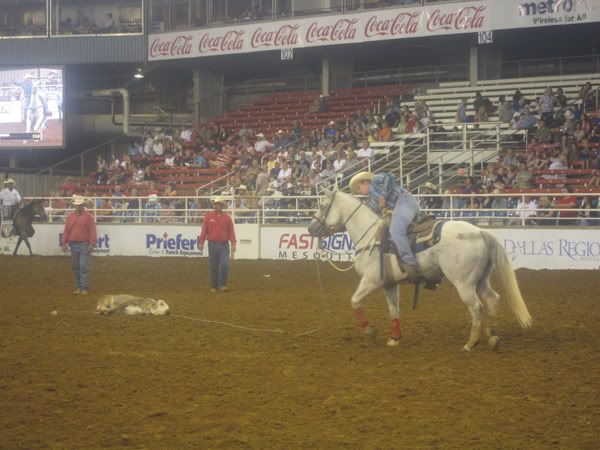 There were a few other events, like Chuck Wagon racing and Ladies' Barrel Racing, but they don't do anything for me, so I didn't get them on film. My favorite event is Bull Riding!
You really don't want to tick them off: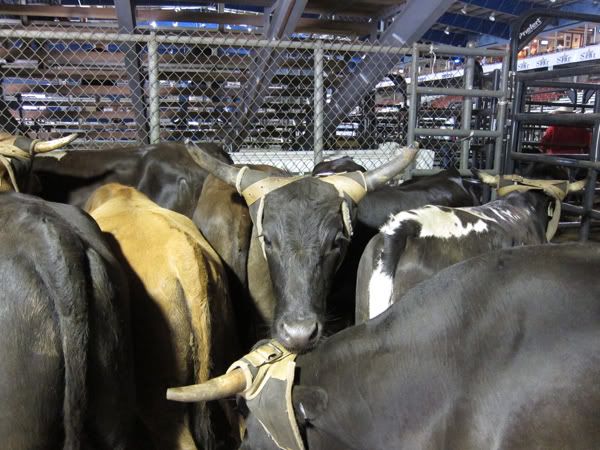 Hard to see, but they are hard to photograph! I didn't get one good bull riding shot.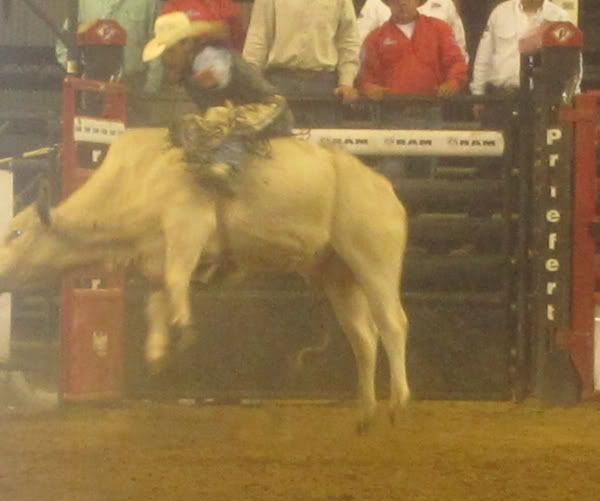 This bull did NOT want to go back to the pen; it took quite a few minutes to get him in there:
And this one got away from the wranglers and clowns - and started coming RIGHT TOWARDS US. It was a little unnerving.
That was our last night of fun in Texas. We went to dinner the following night and then breakfast before we headed out. It was sad leaving Texas and my dad, but we took a great side trip on the way home...